YouTube is a video powerhouse of unique shows, music videos, and viral hits that are hard to come by anywhere else. Since we are all guilty of binge-watching videos and hitting the play button over and over again on our favorite ones, you may be wondering why you would need to clutter up your device memory with YouTube videos when all you have to do is tap open the app or website and search for anything you are looking for in a jiffy.
However, consider a scenario. If you consistently keep finding yourself at places with rather rusty Internet connectivity –for instance when commuting to work- you may thank your lucky stars that you saved a few videos to while away the time. Or what if while preparing for the exams, you need to constantly take references from a few lecture videos, won't it be better to have them at hand at all times instead of constantly searching for them every time you need them?
If you are oblivious to how you can download YouTube videos, keep them with you at all times, and watch them whenever you want, we can teach you all that you need to know about downloading YouTube videos.
Websites
1. KeepVid
The easiest and quickest way of downloading YouTube videos is through websites. One of the best websites for this purpose is KeepVid. Users can download videos and audio from more than 10,000 different websites with KeepVid. All you have to do is to copy the video URL, paste it into the search box on the website, and click on the download button.
It will take a few seconds to process and reveal download options to let you customize the format, size, and quality. Right-click on the file and select "Save Link As" option from the menu and your download will begin. The only downside with this tool is that you must have Java installed to make the most of this website.
Related: Choosing The Best Social Media Channel for a Business
2. Savefrom.net
Akin toKeepVid, Savefrom.net is another useful website that lets you download videos from 40 different websites, including YouTube, with a single click. You can also download a browser add-on to save yourself from the hassle of visiting the website to download videos. Copy the video link, paste it into the Savefrom.net search bar, and press download. A slew of download options will appear to let you choose between different video parameters to be downloaded. In addition to videos, Savefrom.net also integrates with design platforms so designers can pull data directly from albums with user photographs, audio and video files.
3. ClipConverter.cc
Another website that follows along the same lines is clipconverter.cc.The tool allows you to download any video by copypasting the link. Choose from amongst various download options and get your desired video in your preferred format. Users can even select the start and end time for a video so that you only download the part you want instead of the entire video, a feature that other YouTube video downloading tools are devoid of.
There is also a browser add-on available for most popular browsers such as Firefox, Safari and Google Chrome. The add-on makes the downloading process easier and saves you from the hassle of visiting the website.
Software
4. Freemake Video Downloader
Although there are a plethora of video downloading software out there, what makes Freemake video downloader stand out is its ability to download multiple videos simultaneously. Download and install the Freemake video downloader and it will let you grab and convert videos in any format, save links, and download multiple videos all at once.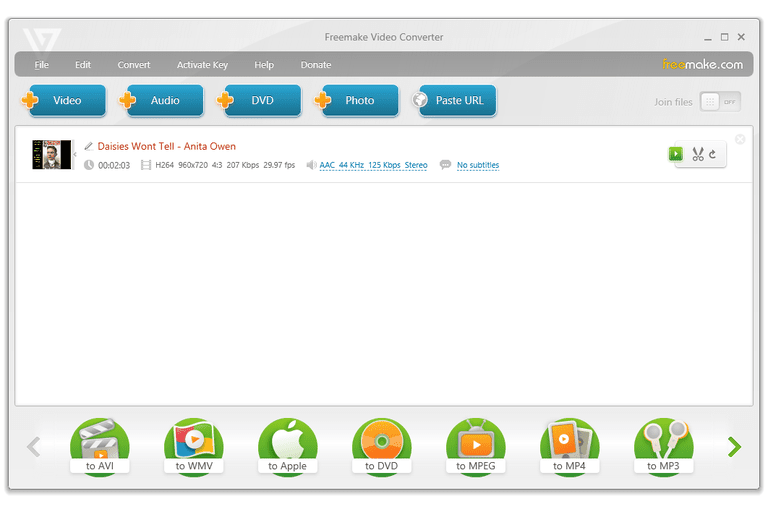 For those interested in downloading audio from a video file, Freemake also has a Freemake YouTube to MP3 converter, called Boom. Do not forget to decline third-party extras during installation and prevent Yahoo from becoming your search engine. A custom install will help you do that easily.
Related: Top 8 Video Editing Software for 2017
5. 4K Video Downloader
Download and install 4K video downloader software for Windows and download complete playlists from YouTube. Yes, you read that right, complete playlists! The free software lets you get your hands on360-degree videos and 3D videos from YouTube. Copy and paste the video URL, tailor the download format and other settings to your preference, and hit the download button. Video download will begin immediately. You can download 24 videos at once with this brilliant free YouTube downloading software. There is also a smart move, which is ideal if you always download videos in a particular format. You do not have to tweak your download options every time with smart mode and your video gets directly downloaded in the format of your choice.
6. YTD Video Downloader
Although the simple, intuitive and easy to use interface of this software might not appeal to everyone, but that is its beauty as you can easily download YouTube videos.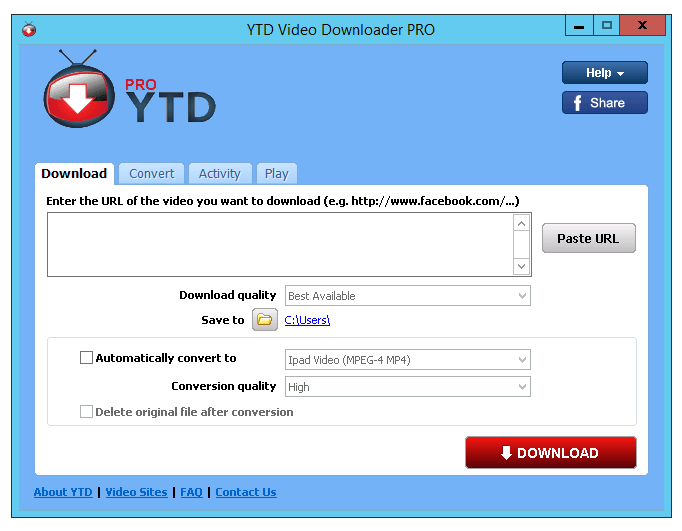 The free version is quite limited and doesn't allow you to download multiple videos at once, so if you are downloading YTD to download multiple videos, you are out of luck. You will have to download videos one by one.
Media Player
7. VLC Media Player
Did you know that you can also download YouTube videos with the help of VLC media player? Yes, you read that right. This powerful media player not only playbacks every multimedia format under the sun but also allows you to capture video stream from YouTube and download your favorite videos from the popular video sharing platforms.
Copy the URL of the video you want to download and select "Open Capture device" from media in VLC media player. A new window will open where you need to select "Network" tab, paste the network URL in the box, and hit the play button. The video will start to playback. There is a small drop-down beside the play button which reveals all available download option. Select one option to begin downloading the theYouTube video.
Which tool do you use to download YouTube videos and why? Which is your favorite YouTube downloading tool? Feel free to share it with us in the comments section below. We would love to hear from you. Choose one of the aforementioned tools and start downloading YouTube videos for offline viewing.